The Quincy Valley Business & Conference Center (QVBCC) is located in the heart of Quincy, Washington, one block away from the crossroads of State Highways 28 and 281.
Since acquiring the former Quincy Community Center and Heartland Pharmacy buildings located at 115 F Street SW and 101 F Street SW, respectively, in July of 2015, the Port of Quincy has been making improvements to create a multi-use facility that supports both public and private meetings, conferences, education, and job training opportunities for the residents and businesses in Quincy and the surrounding areas.
QVBCC is an 8,500 sq. ft. facility, including a full kitchen and restrooms, with the capacity to accommodate 250 persons.
Rates
Monday – Thursday: $250 per day
Friday or Saturday: $600 per day
Friday & Saturday: $1,000 total
Sunday: $400 per day
*A damage deposit equal to the total rental rate is required
*Other licenses and fees may be required depending on event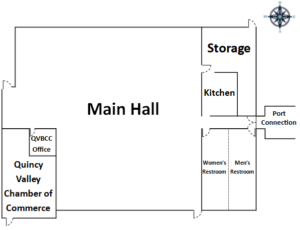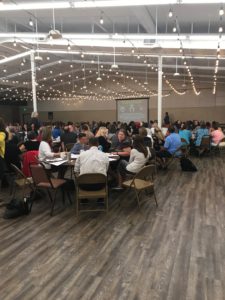 Quincy Port District Administration Office is an 6,500 sq. ft. building which is now connected to QVBCC. This facility has been transformed to now include four meeting rooms. Our Meeting Room C (which is A & B combined) and Boardroom is equipped to hold up to 40 persons, such as for large-scale, multi day events. We have two meeting rooms A & B which hold up to 20 persons. We also offer a smaller conference room, able to hold up to 16 persons, to facilitate ongoing classes and job training coursework.
Rates
Boardroom: $35 per hour
Meeting Room C: $35 per hour
Meeting Room A or B: $20.00 per hour
Conference Room: $15 per hour
The Port of Quincy is an equal opportunity provider and employer. If you wish to file a Civil Rights program complaint of discrimination, complete the USDA Program Discrimination Complaint Form, found online at http://www.ascr.usda.gov/complaint_filing_cust.html, or at any USDA office, or call (866) 632-992 to request the form. You may also write a letter containing all of the information requested in the form. Send your completed complaint form or letter to us by mail at U.S. Department of Agriculture, Director, Office of Adjudication, 1400 Independence Avenue, S.W., Washington D.C. 20250-9410, by fax (202) 690-7442 or email at program.intake@usda.gov .